Our respected personal injury law experts are dedicated to shielding you from the tactics of major car insurance firms.

In the aftermath of a car accident with injuries, managing physical discomfort, emotional turmoil, and financial worries can be overwhelming. The inability to work might escalate your concerns about mounting medical bills. If another driver's negligence resulted in your accident, you might be eligible for compensation that can alleviate your medical and other costs.
At McNeese & Trotsky, our seasoned Bellevue car accident lawyers stand ready to advocate for you when it matters most. You shouldn't be burdened with financial worries while you're grappling with injuries inflicted by someone else's negligence. Our compassionate personal injury attorneys can help you secure the financial compensation you need, enabling you to focus on recuperation.
Injured motorists in Bellevue, Washington, can secure compensation via a settlement or court verdict, covering both tangible and intangible losses incurred from the accident. This compensation can cover medical expenses, lost wages, property damage, pain and suffering, loss of consortium, and death benefits. In some instances, courts might award punitive damages to penalize especially reckless behavior, such as drunk driving.
Ready to explore potential compensation? Get in touch with our Bellevue car accident attorneys. The consultation is free and without any obligation.
Speak to an attorney today
Tell us how we can be of service and one of our team members will contact you.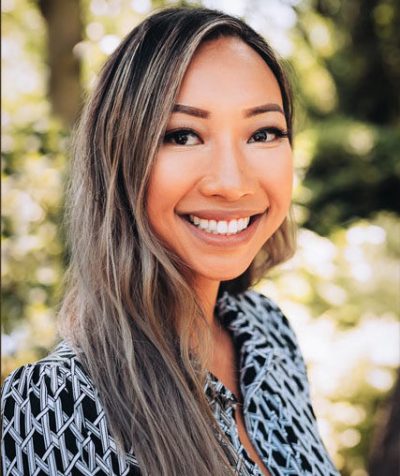 We're devoted to seeking justice on your behalf and will persistently work to ensure you have the resources required for medical treatment and to overcome this difficult chapter in your life. Reach out to us to commence your case right away. Your initial consultation is complimentary, and we don't impose any fees unless we secure a win for your case.
Erika Le – Law Practice Administrator
After a car accident, you might receive a lot of advice. We suggest you keep things simple:

Seek Medical Care
Ensure safety for yourself and your vehicle's occupants. Seek medical attention even if you don't perceive an immediate need.
Photograph the Scene
If feasible, capture images of the accident scene and your injuries to serve as critical evidence.
Gather Witness Information
Collect contact details of any witnesses. Our attorneys can leverage this information to gain more insight into your accident.
Names and Phone Numbers
Retain an Attorney
Managing an auto accident claim independently can be overwhelming. Recruiting a car accident lawyer sooner helps your legal team initiate evidence collection and negotiation with insurance companies promptly.
---
Avoid Insurance Company Interaction
Insurance firms often attempt to offer victims subpar settlements or manipulate them into making damaging statements. Redirect their calls to your attorney.
Preserve all Bills and Receipts
Collect all bills and receipts pertinent to your injuries. It's simpler to accumulate them as you go, but we can assist in gathering them later if required.

---
A set statute of limitations governs the time frame to file a car crash claim
In Washington State, you must initiate your claim within three years of the accident. Some insurance providers have even stricter deadlines, so it's advisable to commence the legal process as soon after your accident as feasible. Our injury attorneys at McNeese & Trotsky, PLLC are conversant with these rules and can provide suitable advice during your free initial consultation.
Car accidents can occur due to a myriad of reasons like distracted driving, drunk driving, reckless driving, traffic rule violations, or faulty vehicles. Regardless of the cause, we're here to assist.
Car accidents can inflict a range of physical and emotional injuries like whiplash, broken bones, head and back injuries, internal bleeding, and fatal injuries. If you've been injured in a car accident, our highly-regarded personal injury lawyers in Bellevue can review your case and clarify your entitlement to compensation.
Car accident claims can be intricate and stressful, but our experienced car accident attorneys can manage all the legal aspects of your case, allowing you to prioritize recovery. Insurance companies often aim to minimize payouts, but with a seasoned car accident lawyer from Bellevue at your side, you can be confident that we will fight for the maximum compensation permitted by law.
At McNeese & Trotsky, PLLC, we believe that everyone is entitled to top-notch legal representation regardless of their financial circumstances. We extend our services on a contingency-fee basis, which means that we get paid only if we win your case.
Get in touch with a Bellevue car accident lawyer at McNeese & Trotsky, PLLC today. With extensive experience in auto accident cases, we will champion for the compensation you rightfully deserve.
Call us today for a free, no-risk consultation.